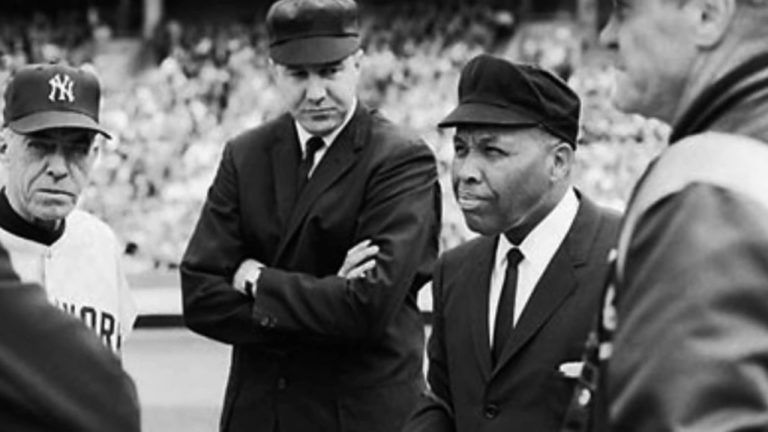 CALLED UP: The Emmett Ashford Story is a one-hour documentary about Major League Baseball's first African American umpire. Ashford made it to the Major League in 1966 after toiling 15-years in the minor leagues. During the journey, he faced prejudice and racism. His energetic and entertaining style eventually made him one of the most popular umpires in the game.
Hall of Famers Tommy Lasorda, legendary umpire Doug Harvey, announcer Dick Enberg, MLB's first African American crew chief umpire Kerwin Danley, Ashford's daughter Adrienne Bratton, along with other baseball notables and fans of Ashford have been interviewed for the documentary.
The film is produced by the filmmaking team of Raymond Bell and Doug Harris (Five Bellz Entertainment and Doug Harris Media). Bell is an Emmy Award winning producer with over 30 years of experience in the television industry. Doug Harris is an acclaimed documentary filmmaker who has produced and directed over twenty documentaries dating back to 1999.
You can help ensure that Ashford's story gets told by donating, and by doing so you are saying yes to a project that preserves the history of one of America's baseball icons.
Donate via Credit Card or eCheck
CALLED UP: The Emmett Ashford Story FAQ
Is my donation tax deductible?
Yes, we are a fiscally sponsored project of Fulcrum Arts Emerge Program, which is a public 501c3 organization recognized by the IRS. Your donation is tax-deductible to the fullest extent permissible by law.
WeDidIt FAQ
Is my donation and credit card info secure?
Yes, the security and confidentiality of your information is our highest priority. We will not sell, trade or share your personal information with anyone else, nor send donor mailings on behalf of other organizations, and we will only share personal information if you have given us specific permission to do so.
How do I know that my donation was made successfully?
You will receive an emailed receipt immediately after your donation is submitted and your credit card is processed. Your donation will also show up on your bank or card statement within 1-3 business days.
Do I get a receipt?
Yes, a receipt is sent to your email inbox once your donation is processed. Please be sure to keep a copy of your receipt for tax purposes. If you select a recurring donation, you will be sent an individual receipt each period when your donation is processed.
Is my donation private?
We will not share or sell a donor's personal information with anyone else, nor send donor mailings on behalf of other organizations.